Welcome to francesfitzgerald.net
Society of American Historians Tony Horwitz Prize Winner for 2020
The first annual Tony Horwitz Prize honoring distinguished work in American history of wide appeal and enduring public significance is awarded to Frances FitzGerald. Her work mixes the keen observations of a journalist with the measured knowledge of a historian. FitzGerald's Fire in the Lake: The Vietnamese and the Americans in Vietnam, (1972), shaped the ways Americans understood the last years of the war in Vietnam. That book won the Pulitzer Prize for General Nonfiction, the Bancroft Prize for history, and the U.S. National Book Award in Contemporary Affairs.
Books on history and culture followed this first contribution, including America Revised (1979), a history of history textbooks; Cities on a Hill A Brilliant Exploration of Visionary Communities Remaking the American Dream (1987), on America's utopian dreams; Way Out There in the Blue: Reagan, Star Wars and the End of the Cold War (2000); and Vietnam: Spirits of the Earth (2002). The Evangelicals: The Struggle to Shape America appeared in 2017.
FitzGerald, a former president of the Society of American Historians, is committed to sustaining public dialogue around issues of current concern. She is widely admired for her careful use of history to illuminate complicated issues, the care with which she writes about those issues, and the audiences she draws into conversations about our history and our civic life. The Society believes FitzGerald's work embodies its commitment to evocative historical writing wherever it occurs.
WINNER! NATIONAL BOOK CRITICS CIRCLE, 2017 NON-FICTION

Bringing together the best qualities of a scholar and journalist, FitzGerald chisels through the hard rock of history to explain how American evangelicals' vision of spiritual liberty fused, over time, with free-market ideology and a pragmatic strain of libertarianism, their zeal stoked by a fear of Communism and anxiety about tumultuous social change. She charts the origins of a significant religious sensibility and follows its evolution as it turns from a religious to a political movement. The Evangelicals makes a brilliant and important contribution to our understanding of the American past and what it means for the future.

A LOS ANGELES TIMES BOOK PRIZE FINALIST, 2017 HISTORY

A NATIONAL BOOK AWARD FINALIST, 2017 NON-FICTION
A WASHINGTON POST BEST SUMMER READ.
FRONT PAGE, THE NEW YORK TIMES BOOK REVIEW, APRIL 2, 2017.
"It is, simply put, a page turner: FitzGerald is a great writer capable of keeping a sprawling narrative on point…
"We have long needed a fair-minded overview of this vitally important religious sensibility, and FitzGerald has now provided it." -- Alan Wolfe
Here is Frances FitzGerald's long awaited major work of American history -- The Evangelicals.
"It is a breathtaking achievement...full of drama and challenge and occupied by some of the most larger-than-life chaaracters, it is a quintessential American story. Now it has found an author worthy of it."
--Alice Mayhew, Vice President, Editorial Director, Simon & Shuster
"FitzGerald's brilliant book could not have been more timely, more well-researched, more well-written, or more necessary." The American Scholar
"Without a doubt the best book on the history and present status of American evangelicals. . . . ambitious, engaging, and nuanced."
—Harvey G. Cox, Jr., Hollis Professor of Divinity Emeritus, Harvard Divinity School
"This is the book I've been waiting for. Now we have in one volume the richly textured, often puzzling, and always engaging story of American evangelicalism from colonial days to the present. To understand evangelicalism's impact on our country, this is must reading."
—Robert Wuthnow, Professor of Sociology and Director of Princeton University's Center for the Study of Religion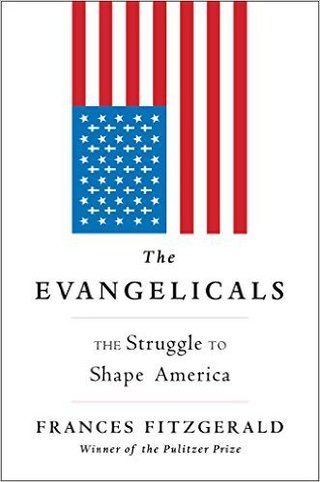 "FitzGerald has crafted nothing less than a spiritual history of the nation whose truest believers have for four centuries constituted themselves a moral majority. This is an American story, objectively told and written from the inside out"
—Richard Norton Smith, author of On His Own Terms: A Life of Nelson Rockefeller

"This is an important book. FitzGerald has written a monumental history of how evangelicalism has shaped America. Few movements in our long story have had as significant an influence on American life and culture as conservative Christianity, and FitzGerald does full justice to the subject's scope and complexity."
—Jon Meacham, Pulitzer Prize winning author of Destiny and Power and Thomas Jefferson

"A rare and valuable book. It's admirable that Frances FitzGerald is able to tell the story of the American evangelical movement without judgment or bias—but it's absolutely astonishing that she's able to tell it with such authority, clarity, and complete grasp of the historical context."
—Daniel Okrent, author of Last Call: The Rise and Fall of Prohibition

"Fitzgerald, always judicious and unbiased, nobly succeeds in analyzing the nuanced differences between evangelicalism and fundamentalism, Calvinism and postmillennialism, charismatics and Pentecostals. Her intricate knowledge of Southern Baptists, Mennonites, holiness groups, Dutch Reformed groups, and other nondenominational churches is astonishing." --Douglas Brinkley BOSTON GLOBE



&nbsp&nbsp&nbspFrances FitzGerald is the recipient of the Pulitzer Prize, the National Book Award, the Bancroft Prize, and a prize from the National Academy of Arts and Sciences. She is the author of Fire in the Lake: the Vietnamese and the Americans in Vietnam; America Revised: History School Books in the Twentieth Century; Cities on a Hill: A Journey through Contemporary American Cultures; Way Out in the Blue: Reagan, Star Wars and the End of the Cold War; and Vietnam: Spirits of the Earth. She has written for The New Yorker, The Atlantic, Harper's, The New York Review of Books, The Nation, Rolling Stone, and Esquire.